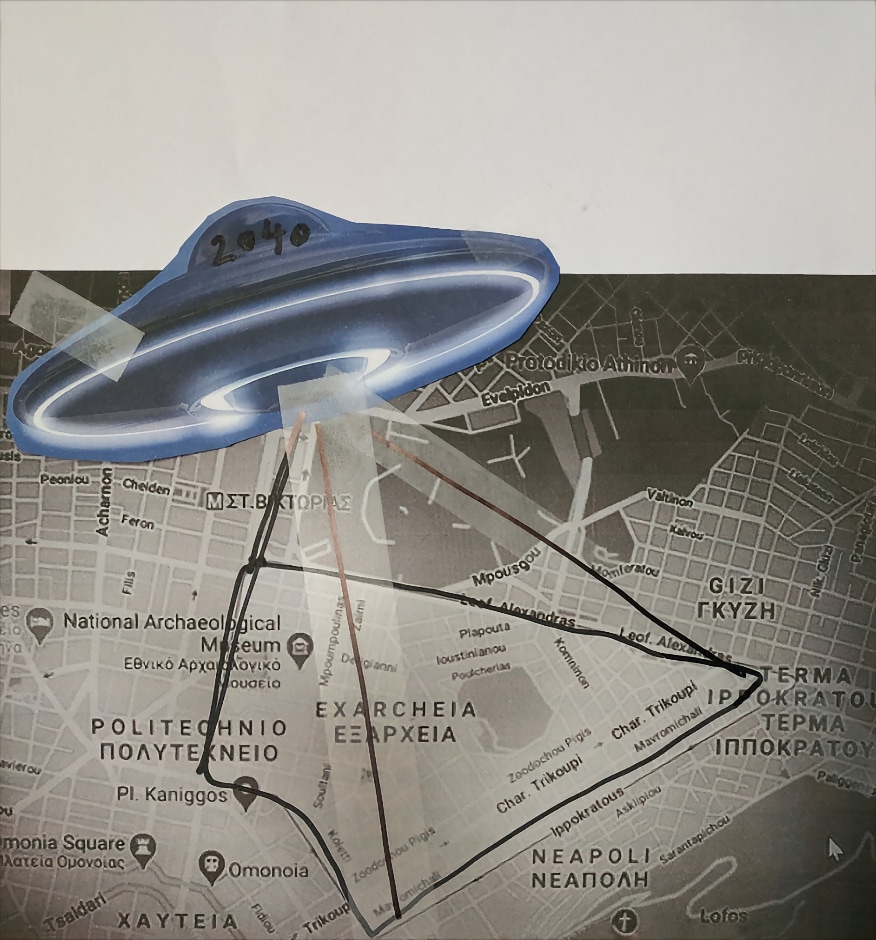 Exarcheia is characterized by an important historical past but also by a dynamic present. In recent years, and against the area's deeply unconventional character, we have been witnessing gentrification and efforts to make it more appealing to tourists. A change is being attempted which will not only have an impact on the form and atmosphere of Exarcheia, but also on the type of mobility that will arise from it.
With that in mind and focusing on contemporary artistic practices that are based on field research and archival logic, Erasmus students from various countries who attended the School of Architecture this semester, as well as regular students of the same School present the results of the research they carried out in ​​the neighbourhood.
With a free research approach and Exarcheia as the subject, the teams gathered data such as notes, photos, videos, audio recordings and interviews, with the aim of initially creating a reconstruction of Exarcheia, not only through physical evidence, but also through the gaze and voice of those who live their daily lives there. A reading of the area was carried out on a small scale, focused on particular issues (e.g. only in terms of sound or smells) and not necessarily on a universal condition.
Then the teams processed the data and discerned an outline of Exarcheia for the year 2040. The experiments do not necessarily correspond with today's gentrification processes, nor with the historical past of the region, although it was necessary to take all the data into account.
The presentation takes place in the Exarcheia area in order to function as a mirror, which does not reflect the present but possible versions of the future.
Participants: Wiktoria Wilczynska, Anna Zeberkiewicz, Kerstin Baier, Jakob Stricker, Josefine Hauschke, Jakob Traxler, Lea Stein, Luna Milani, Alexa Arana, Edgar Durand, Johanna Dittmar, Selina Felgentreff, Mariniki Kounani, Evina Mochlouli
Under the supervision of:
Nina Pappa (visual artist, professor at NTUA, project manager)
Dimitris Georgakopoulos (visual artist, guest lecturer)
Andreas Kalakallas (EDIP)
Mytro Sarma (Theater researcher, PhD candidate)